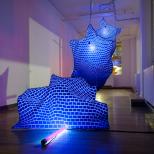 Develop respectful practices of knowledge creation in relation to the shifting landscape of culture, tradition, technology, and decolonial frameworks through a rigor of practice and research.
In the Interdisciplinary Art, Media and Design (IAMD) program you'll join a community of emerging and established makers, thinkers, researchers, community builders, explorers, mentors, writers and performers. Alongside your instructors, peers, visiting artists and community connections you will foster global and intercultural dialogue through your art, media and design. You'll focus on exploring interdisciplinary processes of making and research and expand your understanding of ancestral traditions, performance, media, digital fabrication and more.
 
Through the IAMD program you will:
Develop critical methodologies in research

Position and articulate work in relation to traditional and contemporary Indigenous knowledges and decolonial pedagogy

Participate in graduate level studio-based practice

Take part in seminars in critical theory and research methods

Explore your research and practice through electives,

self-directed

study and residency opportunities

Culminate your research in a public graduate exhibition through a major studio project supported by a written critical analysis (leading to the MFA or MDes degree) or a thesis accompanied by a creative project (leading to the MA degree).

Contribute to new knowledge in the areas of interdisciplinary art, media and design methods, discourses and creative practices.

Promote the development of practices that facilitate sustainability, social responsibility and diverse social and cultural perspectives.

Participate in the annual First-Year Graduate Student Exhibition

Your primary discipline and chosen emphasis among art, design, or media will determine whether the degree earned is an MFA, MDes or MA.
Check out the course calendar here for current courses offered. Explore the IAMD Program Guide here.
In this program your learning environment includes:
material-specific studios, labs and maker-spaces with the support of dedicated technicians.

open studio engagement that supports practice-based research and collaboration

a dedicated advisory committee that includes leading scholars/practitioners

 who will 

guide you through your thesis or major studio project.
In IAMD, you'll take part in experiential learning through:
workshops, seminars, local and international guest lecturers

curatorial talks, studio visits and symposiums

bringing your practice to open-studio, galleries, exhibitions, artist-run centres, research forums and residencies in local and international cultural centres and communities
Program
Interdisciplinary Master's in Art, Media and Design
Degree earned
Master of Arts (MA), Master of Design (MDes) or Master of Fine Arts (MFA)
Format
Full-time/Part-time
Take the Next Step