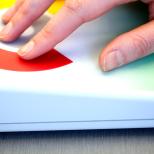 Leverage digital technologies to create inclusive policies, services, products and solutions that can be used by everyone.
In the Inclusive Design program, you will learn to think differently and aim to break through societal barriers to address the growing demand for access and inclusion. You'll also explore equity and access issues through the lens of iterative human-centered design, leveraged by the application of inclusive digital technologies.
As a student you'll have access to OCAD U's Inclusive Design Research Centre (IDRC), an international community of open source developers, designers, researchers, educators and co-designers who work together to proactively ensure that emerging technology and practices are designed inclusively.
Program Delivery:
This program is available both online and in-person. You can choose to attend virtually or arrive on our campus in downtown Toronto.
What you'll do in the program:
There are five interrelated components: foundation courses, theory courses, a research methods course, and a laboratory stream. These parts converge to support a culminating Major Research Project (MRP)

Colloquium session in second year, open to the public

A culminating festival and graduate symposium
Check out the course calendar here for current courses offered.
Hybrid teaching model that supports both online and in person learning.

Coursework includes group projects, online discussion forums, and contributions from guest experts and leading innovators in the field of inclusive design.
Works alongside researchers and practitioners in the Inclusive Design Research Centre, and among our many private and public sector partners.
 Graduates are prepared for doctoral programs or advanced careers in:
Digital Media and ICT Systems

Public Sector Policy and Administration

Design for Built Environments

Arts and Culture

Healthcare sector

Graphic and Communication Design

Inclusive Design Archive
Explore the digital archive of Graduate Research projects from the students of the IAMD program.
Degree earned
Master of Design (MDes)
Take the Next Step