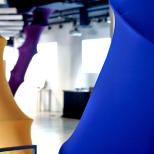 Study at the forefront of contemporary issues and perspectives in art history, design history, and media studies.  
NOTE: Intake into this program will be temporarily suspended for the 2024/25 academic session.
Contemporary Art, Design and New Media Art Histories (CADN) is designed to support your academic investigations into current and recent cultural production. In this interdisciplinary program you will engage with and contribute unique research on contemporary issues and artworks, while drawing on theoretical frameworks, historical contexts, and creative precedents that have shaped today's visual and critical landscape and cultural dialogues.
Through the CADN program you will:
take courses across a

range

of offerings including core courses in art history theory and methods, as well as elective courses offered in OCAD U's six other graduate programs

study current and recent cultural production,

with a critical focus on

colonization

and an active engagement with non-Western frameworks

take part

in study-abroad courses

and

internships

for credit
Check out the course calendar here for current courses offered. Explore the CADN Program Guide here.
Develop your voice as arts-based researchers with support from faculty and with access to these resources:
Dedicated workspaces on our downtown Toronto campus.
Access to the Graduate Gallery, which all graduate students can access to host exhibitions and events year-round.
Co-location with the Criticism and Curatorial Practices graduate program  for building connection and community.
Seminar and elective courses.
Events and gatherings, such as exhibitions, guest lectures, conferences, and symposium partnerships with arts organizations.
Throughout the year the program hosts guest lecturers from visiting scholars, artists, and curators whose research supports diverse and rigorous introductions the study of current and recent cultural production. Past speakers have included: Nicholas R. Bell, Aleesa Cohene, Douglas Coupland, Robert Diaz, Brendan Fernandes, Hal Foster, Monika Kin Gagnon, Luis Jacob, Séamus Kealy, Janaya Khan, Mark Kingwell, Rick Lowe, Janine Marchessault, Sean Martindale, Lisa Myers, Karyn Olivier, Abdullah Qureshi, Kirsty Robertson, Terry Smith, Sarah Thornton, Eve Tuck, and others.
Each year the CADN students organize a graduate student conference, bringing together researchers and visiting speakers. See previous CADN conferences. 
CADN alumni have active careers in arts and culture institutions, the film industry, museums, galleries, and publishing. Many graduates also pursue further study at the PhD level. 
Program
Contemporary Art, Design and New Media Art Histories
Degree earned
Master of Arts (MA)
Take the Next Step